We have lived in our house for just about a year now. And not that long ago, I finally hung curtains in the front room. Ridiculous I know!
I must have brought home a dozen different ones, but my husband and I couldn't agree on any of them. He didn't really know what he would like, just something that in his words, "looks good and not like a Grandma's house." (Apparently, a lot of patterns that I like, are grandma-ish.)
We finally agreed that we would both like some big fat striped curtains.
About dang time!
But what color?
Do we want something bold, or more neutral?
We have a lot of color in the house already, lets go neutral.
OK. How about gray?
We both liked that.
Awesome, now we're getting somewhere.
The rest should be easy right? We decided what style we wanted, now we just have to buy some. There must be thousands of horizontal gray striped curtains right?
Wrong.
I kept searching and searching and the only thing that I found was this from
West Elm
-
Perfect stripes, perfect colors. But a shower curtain? Dang it! I just want normal old curtains!
And as I kept coming up empty handed and was about to give up on finding pre-made ones, and perhaps go the "paint your own" route, I stumbled across
THIS BLOG
.
She bought 3 panels, kept 2 as they were, and cut the last one up to add length to the other 2.
She's using a shower curtain for normal curtains? Well of course!
So my wheels got to turning. The window I wanted to put them on, already had blinds, so I didn't need the curtains for privacy or to block out light, just purely for decoration. So they didn't have to be able to go across the whole window. And they would be behind the couch, so they didn't have to go all the way to the floor.
I only needed one! If I cut the curtain in half, it would still be plenty thick for my purposes.
I ordered it ASAP.
When it arrived, I very nervously cut it in half the hot dog way. (does anyone else remember hamburger and hot dog ways from elementary?)
Using "Stitch Witchery", my assistant (aka little sis) and I finished off the raw edges.
Time to hang! Since it was a shower curtain, the rod wouldn't fit through the holes, so a couple curtain clips later (they can be found at Walmart, Home Depot and Target in the curtain aisle), and we were in business!
I LOVE THEM!
While we are on the subject of thinking outside the box for curtain solutions, heres some I have in my guest/craft room.
With the same kind of curtain clips, I hung a tablecloth from Target!
I tried the same technique to cover my closet door, but do you see in the pic above how the actual curtain hangs a few inches below the rod? You could see the mess, err, I mean neatly organized piles of fabric sitting on the shelf- so that wouldn't work. I just folded it over a few inches and hemmed it to make a nice pocket for the tension rod to slip through, and there you have it!
Another creative approach to curtains. Have you ever used something unexpected to solve a decorating dilemma? I'd love to hear about it!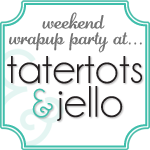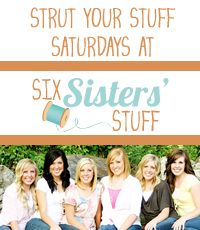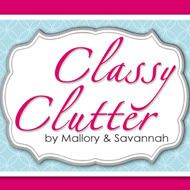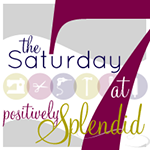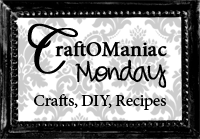 Pin It Now!